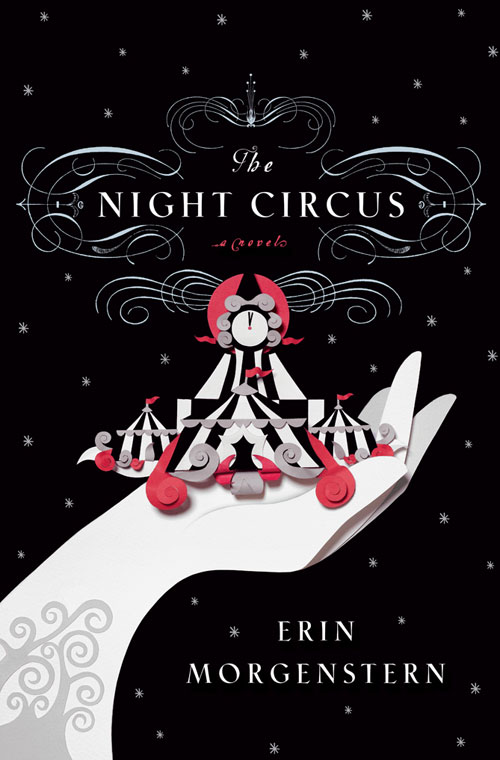 Book Title: The Night Circus
Author: Erin Morgenstern
Cover rating: 4.5/5 I think this cover fits the book really well, as well as being interesting and beautiful. The black and white circus with the red mixed in definitely works well, and I like how the circus is in the hand.
Book rating: 4.5/5
I originally bought this book as a gift for a friend. However, it was found in the adult section, and my mom wanted to read it before I gave it to her. She read it, and decided that I would like it, but wasn't quite sure my friend would like it-- so we ended up getting a gift certificate for my friend.
I loved this book. I found it interesting, and just fascinating, and it helped give inspiration to my NaNoWriMo novel. I loved the characters, and the descriptions. It was rather dark in places, but it was very difficult to put down. It took me a week to read, but between school, and NaNoWriMo, I didn't have a ton of time to read. I ended up reading the last two hundred pages between Friday night and Saturday morning.
I particularly liked Celia's and Marco's relationship, and how the game progressed throughout the book. The adding of tents, etc. I liked Isobel as well, and Thiessen. I love Poppet and Widget as well. The characters in this book are just lovely, and full of life.
I most certainly recommend this book. However, there is at least one sexual part, so be cautioned. I found this book enchanting and beautiful, and found it definitely worth the read. 4.5/5 stars.
This is the UK cover for the book-- which do you like better? I really can't decide-- they're both quite lovely.
On another note, I'm 1,000 words ahead for NaNoWriMo. So... yay for that!
The Dandy Lioness